What's our favorite part of fall? All the fall treats and desserts, of course. Indulge in your favorite fall flavors with these cozy Shakeology recipes that taste like the most delicious offerings of the season.
From caramel apple to pumpkin-gingersnap cheesecake, here are a few of our favorite ways to serve up Shakeology snacks during the autumn months.
A healthier way to enjoy cheesecake, these melt-in-your-mouth minis deliver all the tangy creaminess you crave, plus a kick of gingersnap spice.
Get the recipe.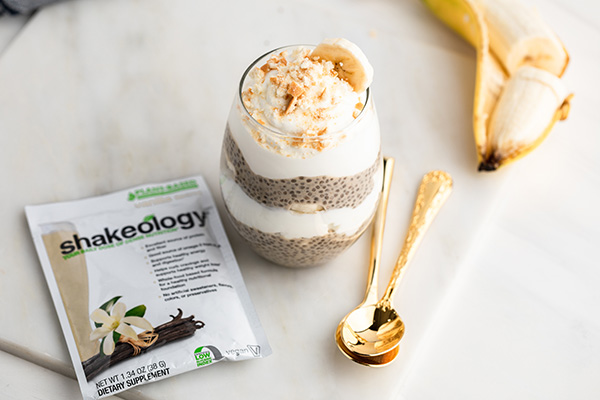 Meet the banana cream pie you can eat for breakfast. Made with banana, chia seeds, Vanilla Shakeology, almond milk, and Greek yogurt, this protein- and fiber powerhouse will keep you full for hours.
Get the recipe.
These layered bars hit all the right notes with a cookie-like crust, gooey chocolate interior, and crunchy nuts on top.
Get the recipe.
Whether you call it a cobbler, crumble, crisp, or streusel, you'll love these crispy-crumbly apple-cinnamon overnight oats, made with Vanilla Shakeology for breakfast or dessert.
Get the recipe.
Remember the instant maple and brown sugar oatmeal from your childhood? This isn't that, because it's even better!
But it will restore all of those nostalgic feelings of camping out in the living room for Saturday morning cartoons.
Get the recipe.
Truth time: Does anyone really enjoy apple-picking? Or is it the ooey-gooey treats like caramel apples and doughnuts that make us flock to the orchards each year?
This caramel apple smoothie, made with Vanilla Whey Shakeology, will give you all the apple-picking vibes from the comfort of your couch.
Get the recipe.
This sweet and simple smoothie uses rolled oats, raisins, and cinnamon to deliver that real oatmeal-cookie flavor.
Vanilla Whey Shakeology amps up the protein and fiber to keep your belly happy and full.
Get the recipe.
If you're a doughnut lover — and what human being isn't? — chomp on these super snackable cake-like donut holes, made with your favorite fall spices.
Get the recipe.
These coffeehouse bars, made with oats, coconut, cranberries, pecans, and pumpkin pie spice are almost too good to keep in the house.
Nibble on these delightful bars while sipping coffee in front of the fireplace.
Get the recipe.